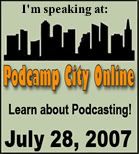 Summer camp, anyone?
In less than two weeks, a few hundred friends and colleagues and I will be pitching tents at
PodCamp City Online
. I hope you'll join us there July 28, 2007.
What's on the menu? We will not have marshmallows, but we will toast the the joys and benefits of podcasting from 9:00 AM-9:30 PM, Eastern Time.
Why not come gather 'round the campfire from 7:00 PM-8:00 PM, Eastern Time?
That's when I'll be hosting "
The Power of Podcasting for Performers, Artists, Talk Radio Hosts, and Entrepreneurs
."
Want to be spotlighted?
My session, and others throughout the day, offer numerous opportunities to showcase your podcast, serve as a case study, ask questions and give feedback. To participate in my session,
register
for PodCamp City Online and follow the instructions provided at
Lisa Tolliver On Air and Online: The pod people are coming! Come join us.
Are you wondering:
"Whoa! What are podcasting and PodCamp?" Then
read this post
and participate in PodCamp City Online.
Need podcasting advice and tools, pronto?
Then check out
Shared Tools and Common Knowledge >> PodCamp.pbwiki.com
,
TheFreeSite

.com: Free Sounds and Music
, and the books featured
here
and in the ads below.
More interested in traditional camping
? There are some resources
here
for that, too and in the ads below.